| | |
| --- | --- |
| Posted by Chad on September 26, 2010 at 8:38 AM | |
"    •Stop eating synthetic chemicals without nutritional value as though they were food.
We are taught at a very young age not to put things that aren't food into our mouths. Why would we think it is any different now that we are grown up. If it isn't food spit it out. This applies especially to all the varied and highly marketed synthetic sweetners. Their is insufficient time to cover this area in detail, rather than my saying "trust me, I'm a doctor ... and I once worked for the government," I would say, while I haven't gotten around yet to discussing his work yet, one place to start would be to Google "Dr. Russel Blaylock." Also avoid artificial food dyes, for heaven's sake, they won't even say what is in them all we know is they aren't food. While it is sometimes easy to slip-up and find one has eaten some non-food item that has been marketed to you, don't sweat it, these chemicals are in lots of foods, even one's you might not suspect at first. But it makes a good rule of thumb as an absolute pre-requisite to any healthy diet to only eat food, in fact I will call it, Dr. Maher's first rule for a healthy diet, "Make sure you are eating food."
http://healthjournalclub.blogspot.com/2010/07/inexpensive-free-or-cost-saving-ways-to.html#more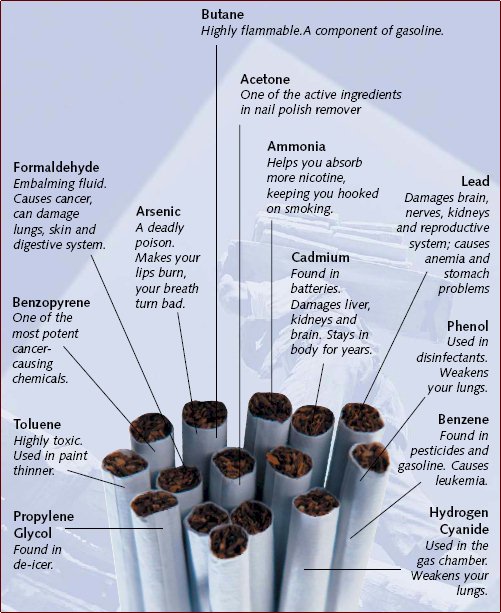 Above are the chemicals found in cigs.  Would you be surprised to know that chemicals found in food can be the same?
Many years ago Europe declared food dyes undesireable in all food.  They wouldn't let their food companies put them in food because there is a link between them and children's behavior.   For an orange tint, they used carrot extract, for example.  Now, who knows.  Their version of the FDA (the FSA) has been taken to task for doing their job well.  Go figure.
http://www.foodpolitics.com/2010/09/international-food-politics-carving-up-the-uks-food-standards-agency/
Go write your congessman.  Hold up a sign.  Hit 'em where it hurts, fight them with your wallet by buying real food!
GO!